I apologize for missing the weekly product review last week; the sickies hit our house via the Birthday Girl, so I spent most of Thursday morning at the doctors and waiting for prescriptions and playing nurse.

This week, I am breaking out of the mold of my previous beauty product reviews and I am going to review one of my favorite household cleaners.
I love almost everything I have tried from Method and this one is at the top of my list! First of all, it smells delicious and that is a huge thing for me. Smells seem to be a trigger for my migraines, so I can't handle strong, heady smells which a lot of cleaning products have. This has such a fresh, clean kitchen smell that I find myself using it just because I want my kitchen to smell nice. I am not good at describing smells, so I won't embarras myself and try to, but trust me, it smells divine!
Now on to what it does....Darling Husband and I were set on granite counter tops when we built our home. Of the billions of decisions we had to make, that one was a no-brainer. However, I wasn't aware of the strenuous cleaning process that one has to go to to get sparkling granite countertops. Basically it is a 3-step process if you want them to be perfect. However, for day-to-day when they don't have to be perfect, this cleaner makes them look close to perfect for a short period without the three steps. So a few sprays and go over it with a Microfiber cloth and you are set!
I am also loving Method's All-Purpose Cleaner in Pink Grapefruit. I have used this to clean numerous Surfaces (including our stainless steel appliances) and it does a great job! It doesn't get our granite as clean as the Granite Cleaner, but if you don't have granite countertops, it may be a great purchase!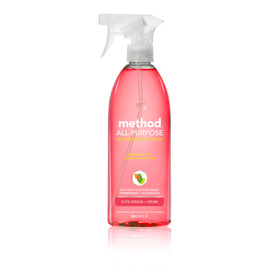 I have found that Target has the biggest selection of Method Products--though I have seen a smaller section at drugstores and grocery stores.